Make the most of culinary herbs and spices.
Reader Recipe Exchange
Find more articles about cooking, gardening and more on the Features Page.
Don't miss our All About... series on herbs and spices on the Articles Page.
Readers of aPinchof.com want to know your secret recipe. The one that makes you beam with pride. Or that one with the seasoning your guests can't quite place.
We will continue to add recipes as they are submitted. Hope to hear from you, but first…
The Rules
Your recipe must be original or full credit should be given to the creator. Please don't just change one ingredient and call it your own.
We hope your recipe will highlight herbs and/or spices in an interesting way.
Please give a little background about the recipe such as how you like to serve it or when this brilliant concoction came to you.
Offer a descriptive name such as "Brazilian Beans" rather than a vague one like "Sally's Special."
Please specify if you wish your name to be used with the recipe.
You can submit your recipe now or write to apinchofmail@aol.com.
Here's one that's full of our favorite recipes because we wrote the book! It is also full of information, helpful hints and ideas for using herbs and spices in your kitchen.
Spice Island's Salad Herbs
By Kathryn M.
I was looking for a substitute for Spice Islands Salad herbs and contacted Spice Islands.
The recipe they gave me is: 1 teaspoon basil, 3/4 teaspoon tarragon, 1/8 teaspoon cardamom, 1/8 teaspoon thyme and a hint of anise seed. I hope someone can use this.
Christmas Pepper Jelly
By Steve B., Overland Park, Kansas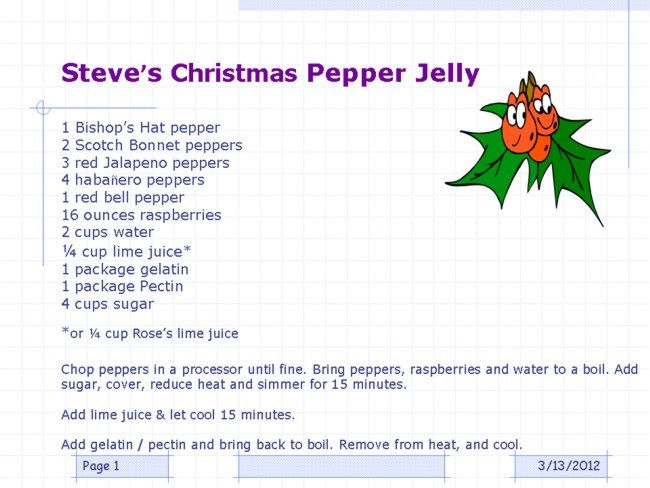 Don't miss Steve's other spicy contribution: How to Build a Habañero Pepper Pie
Hot-Hot Mustard
from Darlyn
I have been making hot mustard for over 40 years. My mother-in-law was born in the USA and she taught me so much about cooking. My mother was German descent first child born in this country, she cooked simple tasty food, but my husband likes the Hot...Hot...food. My daughter's husband likes Hot...Hot...Hot...Food, so I would like to start making grainy mustards.....There is one thing my mother-in-law told me about was hot mustard and how to mix it....
Use dry mustard
Into a small bottle fill half way with dry Mustard
Add white vinegar with equal parts of Milk or cream
Mix until no lumps form and the mixture is smooth
Refrigerate it will Get hotter as it sits....The Milk and Vinegar is the key
I make Chive vinegar every year, pour into small bottles and give for gifts.
Use the chive vinegar instead of the white vinegar then you get the Wow factor
I myself can not eat hot food, I am an oddity....
Frozen Pickle Pops
from Carol in Cyberspace
"Sell for $1.00 -$1.50 depending on the size of the pickle."
To make pickle pops, start with a large jar of dill pickles, drain off the liquid and refill with presweetened Kool-Aid. For jalapeno pickles drain about half the liquid from the pickles and dump in a jar of sliced jalapenos-liquid and all. Transfer the contents of jars to freezer containers or put individual pickles in little plastic "jackets" and freeze. I make several piercings in the pickles before combining them with the liquid. I also insert popsicle sticks in one end of the pickles before putting the in the jackets (treat bags from Hobby Lobby).
McCormick's Salad Herbs Spice Blend
A faithful aPinchOf.com visitor writes:
I was looking for the blend and could no longer find it in stores.
I checked out McCormick's website and found it had been discontinued.
So I sent the marketing department an email and here's their response ENJOY!!! :
"Dear McCormick Consumer:
Thank you for taking the time to contact us. We appreciate your interest in our Salad Herbs and welcome the opportunity to be of assistance to you.
As of May 2001, our company was no longer manufacturing Salad Herbs. It is always a difficult decision to discontinue a product that consumers enjoy. We have taken the liberty of forwarding your request to the appropriate Marketing personnel.
We do suggest trying Herbes de Provence for a similar flavor or we have a recipe:
Salad Herbs
2 tsp. tarragon leaves
2 tsp. basil leaves
2 tsp. thyme leaves
1 tsp. parsley flakes
1 tsp. marjoram leaves
1/4-1/2 tsp. mint leaves
We invite you to join our "Friends and Flavor Club" and receive our newsletter, and personalized recipes and cooking tips. You can join by clicking on "Friends and Flavor" at www.McCormick.com.
We hope to have the continued pleasure of serving you.
Sincerely,
Leslie Lindle
Consumer Affairs Specialist"
Lavender Jasmine Rice
By Tim M. from Wyandotte, MI
Lavender Jasmine rice is a very nice and different side dish. It goes very well with Seafood and Asian dishes. The flavor is very delicate and floral, yet it will hold its own when paired up more aggressive tasting foods. Our favorite combination is to have a seared lemon pepper tuna filet with wasabi on the side, a Asian veggie combination with water chestnuts, bamboo shoots, carrots, onions etc. in a spiced up sweet & sour sauce and a nice serving of the lavender jasmine rice.
Lavender Jasmine Rice
Serves 4
1 cup of Jasmine rice
1 1/2 cups of water
4 Tbs. of a heart smart margarine (not the light kind)
6 to 8 dime sized slices of fresh Ginger (remove before serving) or 1 1/2 tsp. of ground dry Ginger
1 tsp. of dried Lavender buds, bruise the buds before cooking to release more flavor
a pinch of salt
Melt the margarine in a medium saucepan over low heat. Add the Ginger and Lavender and gently stir while cooking over low heat to bring out the flavors for about 2 min. Add the water and salt then bring to a boil. Stir in the Jasmine rice and bring to boiling again. Immediately cover with a lid and reduce heat to the lowest possible heat. Cook for 20 min. then turn off heat and let set for 10 min. Do not remove the lid. At the end of this time fluff the rice with a fork and remove the Ginger slices. Enjoy.
Best Beef Stew Ever
from Joel J. just outside of Dallas
You ain't gonna believe this recipe. But try it with NO modifications before you start playing with it. You'll likely find, as I did, that there's no reason to change a thing. My friend, Dennis Schnelzer, in San Diego, who is the best non-professional cook I know, gave me this recipe. I cannot begin to describe how good this is.
Take 3 or 4 good-sized onions, peel and rough chop them.
Put them into a large pot with LOTS of olive oil - LOTS - add a bit more. Trust me.
Saute the onions until golden - don't allow them to burn. Pull the onions aside and insert a chopped chuck roast - bite sized or double bite-sized. Brown the meat in the onion-flavored olive oil.
Once brown, add the onions back.
Now add - listen closely: 12 chopped cloves of garlic - yes, that's 12.
Add a couple of bay leaves. Add MORE olive oil - Quite a bit more olive oil
Then, add water to cover. Cook until the water is all evaporated (Reduce down to the oil).
It's ready to serve.
Salt and pepper to taste
Eat whatever you want with this, but crusty, Italian or French bread is good. I like a good red wine with this. You may not.
To the recipe add a can of beef bouillon if you want a richer, even more flavorful stew......
Broccoflower Bonanza
from Meri Ann M. in parts unknown
I wanted something light and wanted to use some of my fresh herbs growing on my deck. I also wanted to try something new. So I bought a broccoflower and started grabbing some of my herbs. I serve this at my backyard parties with grilled burgers and chicken.
1 head of broccoflower
1 cucumber diced in 1/4" cubes
1 small Vidalia onion (or other sweet onion) diced small
handful of finely chopped fresh herbs listed below:
lime or lemon thyme
chives
oregano (greek)
a pinch of fresh mint
a pinch of fresh dill
lemon olive oil
Citrus Champagne vinegar
Throw all the ingredients in a pretty bowl and toss with the oil and vinegar to taste. Salt and pepper optional.
Great served on top of a light white fish, chicken or as a side with a grilled burger or pork chop.
Herbed Venison Steak
from Janet Downing of Fairbanks, Alaska
This recipe has evolved over the years. I find the marjoram lessens the "wild" taste of the venison. This is a favorite of my family. Of course I also use it with Moose and Caribou.
4-6 pieces of venison sirloin steak
1 Tbsp marjoram (enough to thoroughly cover the steaks)
1 small onion chopped
1/2 green bell pepper chopped
3 med garlic bulbs minced
salt and pepper to taste
2 Tbsp canola oil
1 cup flour
1 cup of water
1 cup of milk
Rub steak with fresh or dried marjoram and let sit while you prepare the rest of the ingredients.
Chop onions and green peppers, mince garlic.
Place oil in heavy skillet, Add half of the onion, peppers, and garlic to pan. Dredge the steak in flour and add to the pan. Add the rest of the onion, peppers and garlic to pan. Cook for about 3 minutes until the steak is brown in one side and then turn it over and stir the vegetables around so they don't burn. Add the salt and pepper. Brown the meat on the second side and remove from the pan. (Prepare a gravy) Stir thoroughly and add enough of the flour to absorb the oil and make a rue, add the water and stir until it thickens, then add some milk and stir. As the gravy thickens add more milk until the gravy is the consistency you want. Add steaks back to the gravy and make sure they are well covered by the gravy. Turn down the heat to low and let simmer for 30 minutes with a tight lid. (It is especially good if you put it in the oven at 325 degrees for 30 minutes)
Roasting Garlic Fast
from new reader E.
Hello everyone: About roasting garlic. Your ways sound wonderful albeit a lot of energy used for such a small mass. We also love garlic in nearly everything. Consequently I came up with such a simple method. Try it, bet you'll like it. Just take a full head of garlic, or more, clean the cloves, put them in a micro wave friendly container. I use a Corningware cup or glass custard cup. Cover the garlic with virgin olive oil...cover with something, like waxed paper, parchment, or just plain paper towel, folded as necessary and microwave for one minute, depending on the amount of garlic and the power of your microwave. Let stand a few minutes. This leaves you with soft garlic that can be tossed into sauces, potatoes, vegetables...wherever you
like it. The bonus is some lovely garlic flavored oil that can be used anyway you wish.
Creamy Curry
from SJ in Louisiana
I brown pork, chicken or beef in a stir fry pan in a little olive oil. I add a couple of tablespoons of curry powder and brown. I add an onion cut in small wedges, and/or a diced tomato, and/or rough chopped cabbage or what have you. Add a little cayenne pepper, or hot sauce for heat and stir fry till tender. Add about a half-cup of half and half cream and simmer. Thin with a little water for a nice curry sauce. Yum!
Turkey Walnut Salad Wraps
from SW from GA
This is a wonderful recipe which I converted to a low carb one, but the original recipe was given to me by my sister. I have no idea where she found it. I'm growing dill and am always looking for new ways to use it, so here's one she sent me. I make these low carb by using low carb wraps, carb smart mayo and cutting back a bit on the walnuts. I have found that if you chop the nuts fine, you can get by with fewer when going low carb.
2-4 (depending on size) flour tortillas … we use 4 of the smaller ones
½ c mayonnaise
½ tsp lemon juice
2 tbs fresh dill (I have never measured it … just go pick a handful, chop it up and toss it in!)
1 ½ cup diced or shredded cooked turkey
1 tbs sliced green onion or as much as you want like I do
¼ c chopped walnuts
salt and pepper to taste
Romaine lettuce leaves
Remove tortillas from refrigerator. Let stand at room temperature, or warm on griddle for a warm wrap, while preparing filling. In medium bowl, mix together mayo, lemon juice, and dill until smooth & creamy. Stir in chopped turkey, (I do this in my mini chopper) green onion and walnuts.
Rosemary-Lavender Brownies
inspired by AK posted by SKB
Here's the recipe developed when someone wrote to the website wondering if I had a recipe for brownies with rosemary and lavender. Frankly, it is the recipe from the back of the Bakers Chocolate box with double vanilla and the chopped herbs added. It has always been my favorite brownie recipe, now made better!
4 squares (four ounces) unsweetened chocolate
3/4 cup butter
2 cups sugar
3 eggs
2 teaspoons vanilla
1 cup flour
1 1/2 teaspoons minced fresh rosemary
1 teaspoon dried lavender flowers, crushed
Preheat the oven to 350 degrees. Line a 13"x9" baking pan with foil; coat the foil with non-stick spray.
Melt the chocolate with the butter (2 minutes on high, if using a microwave). When the chocolate is completely melted, stir in the sugar. Add the eggs and vanilla, mixing well. Stir in the flour with the rosemary and the lavender until well blended.
Spread into prepared pan. Bake until brownies begin to pull away from the edges of the pan and the center is set, 30-35 minutes. Be careful not to overbake or they will be dry. Cool on a rack in the pan and then lift out the foil before cutting into bars.
Crock Pot Turkey Dill
Submitted by SW from GA
This is a recipe that I have enjoyed which I found on a computer recipe program, so I can't give credit to the proper owner. I believe it was originally intended for dried dill to be used, although I don't know this for sure as the recipe didn't say. I do know that it doesn't call for enough dill to suit my taste, so I just cut enough of the feathery fronds to coat the meat good, depending on the size. This is absolutely delicious!
1 boneless breast of turkey (3 to 3 1/2 lb.)
1 tsp. salt
1/4 tsp. pepper
1 tsp. dill weed
1/4 c. water (I used ½ cup as I have a big crock)
1 tbsp. vinegar
3 tbsp. flour
1 c. sour cream
1 tsp. dill weed
Sprinkle both sides with salt, pepper and 1 teaspoon dill. Place in slow cooking crock pot. Add water and vinegar. Cover and cook on low for 7 to 9 hours or until tender. (Mine took about 6 or 7 hrs.) Remove meat. Turn crock pot to high. Dissolve flour in small amount of cold water and stir in meat drippings from pot. Add the second teaspoon of dill weed. Cook on high until slightly thickened, about 10 minutes. Stir in sour cream. Turn off heat. Slice meat and serve with
sauce. Serves 6-7.
Like I said, I don't measure the dill. Just pick a bunch and chop it up and roll the breast in it to coat good. Used a little oil to make it and the salt and pepper stick, but it doesn't call for it. I put it on before I go to bed and take it up when I get up. Hubby and I both love this one.
Siamali
Another yummy offering from Argyro T. of Cyprus
Ingredients:
2-3 small oranges
1& 1/2 cup semolina
1 cup vegetal butter
5 eggs
vanilla
baking powder
1 cup sugar
1 cup almond crumbs
Sirup: 1 & 1/2 cup sugar and 1 & 1/2 cup water.
We steam the oranges for 5 minutes in a steamer and when they boil we take out the seeds.
We spread butter in the baking bowl.
We beat in the mixer butter with sugar and add the eggs, the almond crumbs, the semolina, the baking powder and the vanilla. At the end we add the oranges and mix them.
We put the mixture in the bowl.
We bake it in a medium oven for one hour.
After baking we imbibe it with the sirup.
Pumpkin Butter
Submitted by Nancy of San Antonio, Texas
This is a really simple recipe for pumpkin butter using the same spices for pumpkin pie listed on the label of Libby's Pumpkin.
1 can Libby's pumpkin
1/2 tsp salt
1 tsp ground cinnamon
1/2 tsp ground ginger
1/4 tsp cloves
1 cup sugar
Mix all ingredients in saucepan. After bringing to a steaming heat, reduce heat and cook until all ingredients are well incorporated and smooth, about 15 minutes.
Let cool and put in containers. This freezes nicely or can be kept refrigerated.
It is very good on biscuits or cornbread.
Jerusalem Artichoke & Leek Soup
(A delicous, hearty, nutty flavoured soup to warm up cool autumn and winter days)
Submitted by Marigold of New Zealand
This recipe has Jerusalem artichokes, those knobbly brown tubers, relatives of the sunflower, as its main ingredient.
They grow so easily that anyone with a small patch of soil and a temperate climate can produce large quantities of this interesting vegetable. Dig them once the flowers have begun to die off, but be warned, any small piece of tuber left in the ground will produce more plants next year.
This recipe is one that I created as I had vast quantites of artichokes and very little information on how to use them. I'd be interested in any other recipes that use them.
250g ( 1/2 lb) Jerusalem artichokes
250g ( 1/2 lb) potatoes
1 leek
25g (1oz) butter
1 litre (4 cups) stock (chicken or vegetable)
white pepper
salt
Peel artichokes and potatoes and cut into small dice.
Cut leek lengthwise into four then slice into small pieces.
Melt butter in large saucepan. Add vegetables and simmer on very low heat with lid on until vegetables are tender.
(approx 30mins).
Add stock and simmer a further 10 mins.
Pour soup into a blender and blend until smooth and creamy. .
Reheat, season with salt & pepper to taste and garnish with chopped chives or parsley before serving with crusty bread.
Salmon Crusted with Pistachios
Submitted by DeDe of Las Vegas, Nevada
Shell salted pistachios and grind/chop them to medium consistency. Once ground/chopped, lightly season them with seasoned salt, black pepper, and a dash of cayenne. (Although the nuts are already salted, the addition of seasoned salt is a definite complement.)
Scale the salmon filets, the skin stays on. Check for any pin bones, wash and leave the fish damp so the nuts stick better.
Roll the salmon in the chopped nuts, heavily crusting the fillets. Once thoroughly coated, press the nuts into the fish to make certain they do not dislodge during frying.
In frying pan, pour olive oil 1" deep. And heat to very hot. Fry fish skin side first. It will cook very quickly, so stand by. It was a first-time experiment and I'm sure of the total frying time, but I think it was about 3 minutes on each side, if that long. (It was a large filet, very ample for the two of us salmon lovers.)
I drained it for only a moment on a thirsty towel. It was amazing that it really had not absorbed the oil.
Bought more salmon filets today because I am dying to do it again -- It was just that good.
Halibut is equally tasty prepared this way.
Coconut Cake
Submitted by Argyro T. of Cyprus
1 1/2 kilo sugar
10 eggs
1 baking powder
3 vanillas
3 glasses flour
3 glasses ground coconut
1/4 butter
Method "butter whitening"
sugar: half for the cake, half for the sirop
oven: 200 degrees
The method starts by beating butter with egg yolk and half the sugar and continues with other ingredients. Egg whites are beaten separately to form a marenga which is folded in the dough carefully at the end. Some ground coconut is left behind to be spread at the top after imbibing the cake with the sirop. If you imbibe it when the cake is hot, then the sirop should be cold and vice versa. That is when the cake is cold, it must be imbibed with cold sirop.
His (Mr. Demetri's) measurements are not very consistent, but I hope you can manage with this.
Note: No instructions were given for making the syrup but you might try boiling the remaining sugar with half as much water and a bit of lemon juice for five minutes.
Artichoke Soup
borrowed from Helen G.
1 can artichoke hearts
6 Tablespoons Oleo (or butter)
1/2 cup sliced green onions
1/2 teaspoon cayenne pepper
2 Tablespoons flour
1 can chicken broth
2 teaspoons Tabasco sauce
1 pint half-and-half
Puree artichoke hearts with liquid in blender. Set aside.
Melt Oleo in a saucepan over medium-high heat. Add onions and cayenne pepper; sauté 3 minutes. Stir in flour; cook for a minute or two. Add chicken broth, reserved artichoke puree and Tabasco. Cook 5 minutes. Stir in half-and-half and heat through.
Beef and Eggplant Bake
Submitted by Virginia of Portland, Oregon
I have a recipe to pass on to you that you just have to try. It is something I found years ago and have started it again, although now I am not using a recipe but only going by taste.
Brown a good pound of stew meat that has been cut up into bite size pieces (I always do that, I don't know if everyone does). Put in a bunch of cut up onion while it is browning. Salt and pepper the meat to taste.
Add some water, I guess about 2 cups, and season with bay leaves, basil, thyme, oregano and parsley. Simmer for about an hour. Add a small can of tomato sauce and simmer another hour, making sure that it ends up kind of saucy. When the beef is nice and tender, cut up an eggplant into small squares, preferably peeled but it doesn't have to be. Put it in a 13 x 9 baking dish and put the beef and sauce over it. Toss in a can of green beans and a small can of sliced black olives and mix it all up good. Put a whole bunch of mozzarella cheese all over the top and bake at 350 degrees for about 20 minutes or until the cheese is melted but not brown.
It's delicious! And a good use for eggplant which Sergei and I love to buy because they are so pretty. It is also low carb!
Garlic Mashed Potatoes for Two
Submitted by Nancy in San Antonio
My husband and I went to a restaurant and were served garlic mashed potatoes. They were so good that I tried to duplicate them at home. This is what I came up with.
2 medium white potatoes
4 cloves garlic
Salt & Pepper to taste
1 Tablespoon butter or margarine
1/4 cup milk
Peel and cube potatoes. Put in pan with enough water in which to cook them along with 1 teaspoon salt. While potatoes are beginning to cook, peel garlic. Add whole garlic to potatoes and cook until potatoes are cooked through.
Drain, add salt, pepper and butter. Add milk, a little at a time while mashing until you reach a consistency you like.
Pumpkin Chiffon Pie
Submitted from Barbara in Boston
Graham cracker pie crust
Soften 1 envelope of Knox gelatin in 1/4 cup cold water.
1 1/2 cup pumpkin (Libby's, etc.)
1/2 cup sugar
3/4 teaspoon cinnamon
1/2 teaspoon ginger
2 eggs (separated)
1/2 cup milk
Cook the pumpkin, sugar, cinnamon, ginger, egg yolks and milk over boiling water (double boiler) five minutes stirring constantly.
Add softened gelatin and chill until slightly thickened.
Gradually beat 1/4 cup sugar into stiffly beaten egg whites.
Fold into thickened pumpkin mixture. Pour into pie crust.
Chill until firm.
Top with whipped cream.
Delicious!
Roadkill Chicken
Submitted by Robert from Bush, Louisiana
This recipe, such as it is, is an accommodation to the fact that, although chickens are more or less round, barbecue grills are more or less flat. You'll need one large chicken and one small to medium steam roller. Or alternatively, you might just cut through the bird's breast bone (It's easy: insert a serrated bread or carving knife completely through the cavity of the bird and pull it up through the breast bone.) and splay it flat -- whatever, just so long as it can be got cozily into a more or less single layer in a skillet. This latter will necessarily be rather large. I use a 12-inch black iron skillet (If yours isn't black already, it assuredly will be by the time we're done with it.), which accommodates the (spread-eagled?) chicken; and as my grill is one of those small, round, amateur affairs, I hack-sawed a little opening in the lid to accommodate the handle of the skillet.
So, gentlemen (and you, too, gentleladies), start your fires; and soak a few wood chips. (How nice that, around here at least, hickory chips grow on trees.) Now run back into the kitchen, put that big skillet on the stove and sauté some garlic, fresh rosemary and thyme in about a cup of olive oil. Pour this over the chicken, which you will have already split, skinned, washed, and dried; and rub it all over that lucky, lubricious bird. After this ritual ablution and unction, it's back to the grill, which by now has has settled down to a fierce but steady heat. Throw the chips on the fire and the chicken on the grill to be quickly seared on both sides. In this short meantime, run back to the kitchen, turn up the heat under the skillet and add some more of the fresh herbs and enough carrot strips, onion eighths, coarsely chopped fennel root and whole garlic cloves to fill the bottom of the skillet. Saute these for as long as you dare (And don't get so lathered about this that you forget about the chicken hissing on the grill!), and then deglaze the pan with a cup or so of white wine and some chicken stock or gelée. (If at this point you also add a couple of whole Belgian endives or split leeks, you will be in for a special treat.) Then take the skillet out to the grill, put the seared chicken on top of the vegetables, and drape the green fennel tops over the whole assembly. Place this on the grill, clamp the lid down tight, and take a few deep and well-deserved breaths. Now you have only to baste the bird from time to time during the forty minutes or so that it takes to finish cooking, being careful as always to not let the pan dry out.
Once the bird is done, pluck off the fennel tops (Save them and the other vegetables for the stock pot!), strain the remaining liquid, separate the fat, and reduce that in a saucepan with a dollop of butter, some marsala, perhaps, and some green onion tops. Then slice the bird, sauce it, and serve it forth!
n.b.: This method also works well with pork chops which, felicitously, need be neither split nor splat.